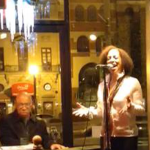 The Black Fox Lounge is closing at the end of the month. I'm sad to see it go. That little club has been a constant in my life for the past four years or so. As a performer, it's always nice to have a regular spot…a place where you can grow.
I booked the first gig at the Black Fox when Charlie and I were working as a duo. We had every other Friday, then every other Saturday. Then, Charlie decided he didn't want to do the gig anymore and he didn't want to be married to me anymore either. I held on to what had been "our" gig and it became my own.
Looking back, it was a devastating time for me. Not just the end of a marriage, but soon after, my mother had a stroke and then passed on. I remember the night before she died, I had to perform at the Black Fox and I was so worried all night that she would die before I returned. I went into her room at 3:30am when I got home and she was still breathing. I said goodnight and told her I'd see her in the morning. But, sometime between then and 8:00am, when I went back into her room, she left this earth.
The Black Fox Lounge was more than just a gig. It was somewhere to sing through my pain…to keep from falling apart. I used different guitarists and pianists to accompany me; eventually finding good chemistry with Yvonne Johnson, who I worked with for almost a year. In early 2013, I left to go to Montreal for two months and came back to my regular spot.  Then, I left to go to Los Angeles. A year and half later, I came back to my spot.
I won't be coming back any more.  On January 1, 2015, the Black Fox Lounge will be closing their Connecticut Avenue doors for good.
To Jim, Russ, Roberto, Rodrigo, and all the staff who have come and gone, I wish you love and good things. Thanks for the memories!