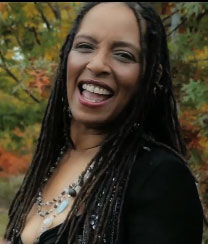 Dee Stone, a veteran of the Washington, DC music scene, is a world-class vocalist and songwriter. Soulful, quirky, and fun, her set includes rock 'n soul classics and funked-up blues, in addition to her original material. Her songs tell stories of the collective human experience — from love to religion to politics — sometimes controversial, but always honest.
Backed by a punchy power trio of accomplished musicians, her incomparable talent and versatility shine. Audiences love the range of genres she covers and the upbeat vibe of her performances. The head-boppin' toe-tappin' grooves are as mesmerizing as the 4-octave voice and, when she flashes that smile of hers, you'll know she's glad to have you along for the ride.
A consummate professional and consistent crowd pleaser, Dee has performed at festivals, private events, and venues across the U.S. and internationally, including local venues such as Blues Alley and Bethesda Blues and Jazz.  In addition to fronting the Dee Stone Band, she was the vocal half of the critically-acclaimed duo Stone/Wright.
---
Backstory
Dee was born in York, Pennsylvania, and was the only child of Doris and James McNeil.   When she was about six years old, her parents split up. Even though her father was a strong presence in her life, she grew up in a single parent household with her mother, who was a serious lover of popular R&B/Soul music. Her mom's record collection consisted of all the great soul artists of the time, including Aretha Franklin, Gladys Knight & the Pips, The Jackson 5, Marvin Gaye, Stevie Wonder, James Brown, The Ohio Players, The Temptations, and even gospel singer Mahalia Jackson. Inspired by the sound that came from her mom's records, her talent came naturally as she sang along into her hairbrush in front of the mirror.
One day, her mother came home with an album by a new group on the scene called Rufus. Her mother asked her, "Have you ever heard of this Chaka Khan? Is she foreign?" Dee laughed, because she had never heard of her either, but when she listened to the album, she was amazed at the vocals and decided that she wanted to sing like Chaka.
Some years later, Dee entered her high school talent show and sang a Rufus song called Best of Your Heart. It was her very first time performing on a stage and she received a standing ovation. She had been a very shy girl and everyone was amazed that she actually got up there, and that she sounded so good.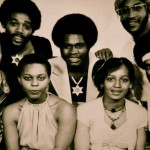 That was her catalyst moment, and at the age of sixteen, she began singing professionally with local bands; one being a well-known group called Sunburst.
After graduating from high school, Dee decided to move to Los Angeles to, as she says, "get discovered and be on Soul Train." Well, after that didn't happen instantly, she worked as a vocalist around town in L.A., traveled around the world and did a lot of vocal work with top-40 bands in Japan. Soon after that, Dee got pregnant with her first son Bryan, and decided to focus on writing and recording her own songs. She had already been writing lyrics for about 10 years and loved the creative process.
A few years after giving birth to Bryan, Dee got married (hence, the last name Stone). That marriage ended in divorce, but produced two more children (Derric and Shaina). Dee loved being a mom and she was a Little League mom, Girl Scout cookie mom, PTA mom, and even served as a PTA President one year.
Through the years, she continued to write, record, produce, and perform her own music. Dee has recorded and released several critically-acclaimed CD's (I Wanna Walk on Water-1996, Square One-2006, Live…From the Bedroom-2009, Redemption-2011, and two singles: Dance-2008 and Dreamer-2013).  Of these recordings, four were with the Dee Stone Band, one was the Stone/Wright duo (with guitarist Charles Wright), and one solo CD with music tracks created by her son Bryan, aka Don Suave, a respected artist in his own right (MidiBoi Music).
In the studio, Dee produces her own material just as a chef would prepare fine cuisine. She pays attention to the most minute details in production that others would probably miss, or would just let slip by.
Dee Stone, the consummate songwriter, is still reaching and growing musically and is working more consistently than she ever has; constantly in the studio and focused on that thing that brings her joy — the song.